UEFA Nations League C
North Macedonia vs Georgia⁣ – Match Preview, Best Odds and Tips
North Macedonia scored 1 goal in each of their last 3 meetings with Georgia.
Georgia and North Macedonia also faced each other in the UEFA Nations League in 2020. Both ended 1-1.
Georgia scored a total of 9 goals in their last two UEFA Nations League matches.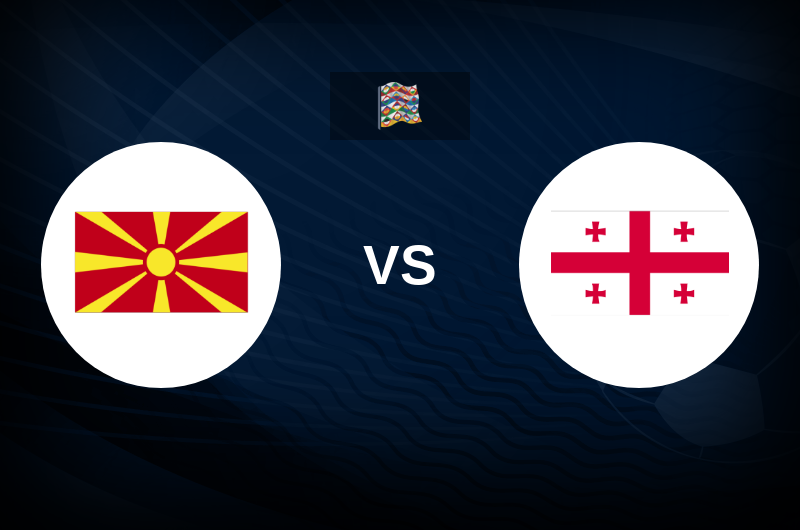 Summary
North Macedonia vs Georgia betting tips, predictions and match preview. Latest team news, head to head stats and verdict on the big UEFA Nations League match in round 3 at Todor Proeski Arena.
North Macedonia go up against Georgia this coming Thursday in a game played out at Todor Proeski Arena. We are entering the third round of the group stage in the UEFA Nations League with both very eager to add points to their tally.
Home side North Macedonia enter this next international as number 62 in the FIFA world ranking. With the visitors from Georgia sitting as number 85, we have a rather big gap between the countries.
After the second round of the group stage North Macedonia are number two on four points, while Georgia have six points as number one.
Collecting four points in their first two UEFA Nations League matches, North Macedonia are feeling good about their chances to see the next stage. Another win and they'll be bouncing. North Macedonia scored 12 goals, conceded nine and fought their way to one clean sheets in their previous eight matches.
With six points to brag about after their first two games, Georgia are ready to take on the world. No opponent will relish facing them in this third round. Georgia scored 15 goals, conceded eight and kept their opponents from scoring three times in their last eight matches.
North Macedonia vs Georgia H2H
The last time these two sides facing off here came up against each other, North Macedonia came away with a 0-1 win. North Macedonia won 33% of their last meetings against Georgia for at total record of 1-2-0, as their next visitors won zero matches. A record worth keeping in mind before you make a choice for your next accumulator, depending on your betting strategy.
North Macedonia Form
North Macedonia have seen it all in their last three matches, which gave them four points. First, they went down 2-0 against Portugal, before picking up a 1-1 draw against Bulgaria. Their latest match brought a 0-2 win in their encounter with Gibraltar.
North Macedonia are looking at a record of one win, one draw and zero defeats in the UEFA Nations League this season. The last one UEFA Nations League games for North Macedonia had less than two goals.
North Macedonia only pulled off two wins from a possible six in recent matches on home soil. Of the remaining four matches, they drew two and lost two, as they scored seven and conceded eight goals.
Georgia Form
In their last three matches, Georgia drew 0-0 with Albania, beat Gibraltar by 4-0 and beat Bulgaria by 2-5.
Georgia have a record of two wins, zero draws and zero defeats in the UEFA Nations League this season.
Georgia managed a decent return of three wins in their last six away matches, in which they scored nine while also conceding 11 times. They also experienced one draw and two defeats.
Georgia just have a single unavailable player for squad selection, when facing North Macedonia at the Todor Proeski Arena.
Otar Kiteishvili is too injured to face Georgia.