US Presidential Election 2020/ Next President Odds, Preview and Free Bets- Donald Trump looking strong after Democratic debates
The odds on Donald Trump staying in the Oval Office for one more term have come down following a week of debates in the Democratic party.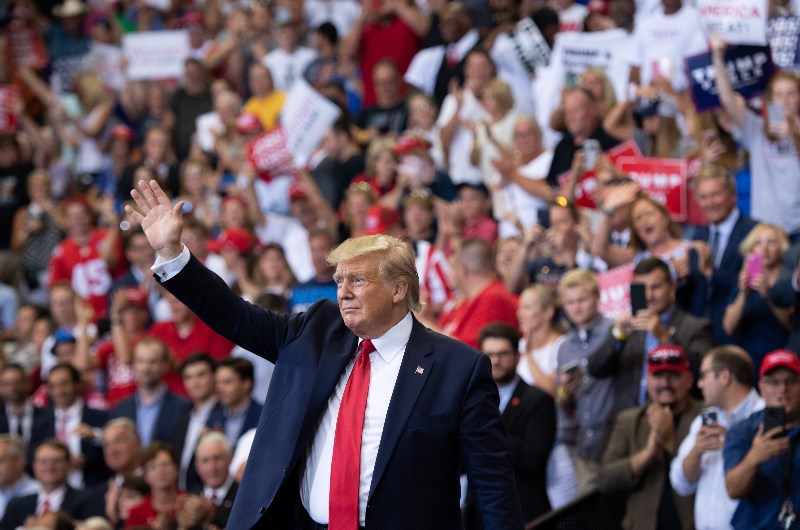 US President Donald Trump waves as he arrives to a "Make America Great Again" campaign rally in Cincinnati, Ohio, on August 1, 2019. (Photo by SAUL LOEB / AFP) (Photo credit should read SAUL LOEB/AFP/Getty Images)
Will Donald Trump win another election?
Since surprising the world in 2016, the odds have mostly been in Donald Trump's favour to win the 2020 general election, despite a string of controversies surrounding his time as President of the United States.
Trump is likely to benefit from the inability of the Democratic party to rally together and choose a clear identity for the party heading into the next election.
Their range of candidates has failed to produce a clear favourite and for the time being, at least, that gives Donald Trump an advantage.
It is also worth noting that American's have not voted out a sitting President since George H W Bush lost to Bill Clinton in 1993.
Who will be the Democratic nominee be in the 2020 US election?
As we've already taken a look at, Trump's biggest advantage in the upcoming US election is that the Democrats still don't have a clear favourite to run against the sitting president.
Joe Biden, Kamala Harris and Elizabeth Warren are the three leading the pack at the moment, with Biden having just edged in front following this week's debates. The former Vice President to Barrack Obama has also been polling very well in recent weeks, and while polls should always be taken with a pinch of salt, they can also be a key indicator in politics.
When is the 2020 US Presidential election?
The first order of business will be deciding who is going to run against Donald Trump for the Democrats and after months of debating, that will be announced at the Democratic National Convention, which is scheduled to take place between June 13 and June 16 2020.
Once we know who is running against Trump, both candidates will begin their campaigns for the election.
The election itself will take place on Tuesday, November 3rd 2020, and the results of the election will then be counted and the result will be confirmed within 24 hours.
US Presidential Election 2020 Odds and Tips
Getting money on an election early can often be a huge advantage for punters as the odds tend to be much longer than they will be during the election itself.
Trump is currently valued at 1.9 with Bet365 but Joe Biden offers great value at 7.00. The former Vice President is polling well among Democratic voters and he could be exactly the kind of old-school candidate that could help the Democrats win back some of the more moderate voters during the election. He also has the sentimental backing of a lot of Obama voters and a good record with younger voters.