Find out about new betting sites in Australia, as well as the best Australian betting sites and more.
Best Australian Betting Sites
Australian Betting Sites
Betting in Australia is a hugely popular pastime. The country has a rich history of sporting success in cricket and rugby and has some of the most passionate fans around.
Horse racing is also popular Australia, with historic races like the Melbourne Cup, Caulfield Cup and Cox Plate taking place each year and generating huge betting interest.
AFL (or Australian Rules) and NRL (rugby league) are huge when it comes to punting, while soccer, basketball, cricket, rugby union and eSports also generate significant interest.
Previously betting at TAB outlets and directly on course was the only option. Now Australia is one of the biggest markets for online wagering with betting sites launched regularly.
There are many licenced betting sites in Australia that punters can access. Our online betting experts have compared top Australian betting sites. They have also reviewed the best features of each operator.
Best Australian Betting Sites
Top betting sites will have competitive odds on a variety of sports. Most sportsbooks offer odds for major international sports events like the Rugby World Cup and ICC tournaments.
Domestic sports are also well covered. Aussie Rules and Rugby League are both extremely popular in Australia, and leading bookmakers provide odds for AFL fixtures and the AFL Grand Final as well the NRL Grand Final and throughout the footy season.
The tables on this page dissects just what each betting site offers and what you can expect, as well as detailing codes and
promo codes
you can use when signing up for a new account.
How to Choose the Best Betting Sites in Australia
In recent years the popularity of online betting has soared, and Australia is no exception. With numerous betting sites available, choosing the best one can be a daunting task. It's essential to select a reliable and reputable platform that offers a safe and enjoyable betting experience. On this page you'll find information about the key factors to consider when choosing a new Australian bookmaker.
Some of these factors include:
Licensing and Regulation: The first step in choosing a trustworthy betting site is to ensure it holds a valid license from a recognized regulatory authority. In Australia, online gambling is administered by State and Territory regulators.
Gambling is regulated by the following state and territory bodies:
Australian Capital Territory - ACT Gambling and Racing Commission
New South Wales - Office for Liquor, Gaming and Racing
Northern Territory - Racing Commission; Department of Industry, Tourism and Trade
Queensland - Office of Liquor and Gaming Regulation
South Australia - Independent Gambling Authority
Tasmania - Department of Treasury and Finance
Victoria - Victorian Commission for Gambling and Liquor Regulation
Western Australia - Department of Racing, Gaming and Liquor
A licensed betting site guarantees fair play, protection of customer funds, and adherence to strict regulations and responsible gambling practices.
Reputation and Trustworthiness: Consider the reputation and track record of the betting site you are considering. Look for Australian bookmakers that have been in operation for a substantial period and have a positive reputation among users. Read online reviews, check forums and gather feedback from other punters to assess the website's trustworthiness. A reliable bookmaker should have a transparent history of payouts, customer support and security measures.
Range of Sports and Betting Markets: One of the primary factors to evaluate is the variety of sports and betting markets offered by the bookmaker. Look for a platform that caters to your specific interests, whether it's horse racing, cricket, rugby, Aussie Rule, tennis or any other sport.
Additionally, ensure the bookmaker provides a wide range of bet types as a diverse selection of betting options allows for more flexibility and excitement in your wagering experience.
Competitive Odds and Promotions: Betting odds play a crucial role in determining your potential winnings. Compare the odds offered by different betting sites to find the most favourable ones. Reputable bookmakers typically provide competitive odds to attract and retain customers. Additionally, consider the availability of promotions, bonuses and loyalty programs. These can enhance your betting experience and provide additional value for your money.
User-Friendly Interface: A user-friendly website or mobile betting app is essential for an enjoyable betting experience. The site should be well-designed, responsive and easy to navigate. Look for intuitive features such as clear menus, search functions and quick access to different betting markets. A mobile-friendly platform or a dedicated app is also desirable for betting on the go.
Payment Methods and Security: Evaluate the available payment methods on offer to you. The best betting sites in Australia offer a wide range of secure and convenient options, including credit/debit cards, Ewallets and bank transfers. Ensure that the platform utilizes encryption technology to protect your financial transactions and personal information. Secure payment processing and robust privacy policies are crucial for a safe betting experience.
Customer Support: Reliable customer service is vital when choosing a betting site. Look for operators that offer multiple channels of communication, such as live chat, email and telephone support. The customer support team should be responsive, knowledgeable, and available during convenient hours. Some will offer 24 hours a day support. Prompt assistance in case of any issues or queries will enhance your overall experience.
Responsible Gambling Measures: A reputable betting site should prioritize responsible gambling. Look for platforms that offer self-exclusion tools, deposit limits and other responsible gambling features to help you maintain control over your betting activities. Gambling should always be fun and responsible gambling measures demonstrate a bookmaker's commitment to the well-being of its customers.
New Australian Betting Sites
Every year, new betting sites are launching their platforms in Australia. To stand out among the established betting sites, new online sportsbooks have competitive odds and varied markets.
Some new betting sites in Australia will provide generous promotions to bring in customers. New Australia betting sites also offer better sports odds than established betting sites.
How to Start Betting Online in Australia
If you are new to online betting, once you have found a new online betting site to register with, you can open your account and start placing bets.

Follow this step-by-step guide to get started:
Step 1: Visit the bookmakers' home page. Navigate to the homepage of your chosen online sportsbook or casino. The links on this page will take you straight to their official website.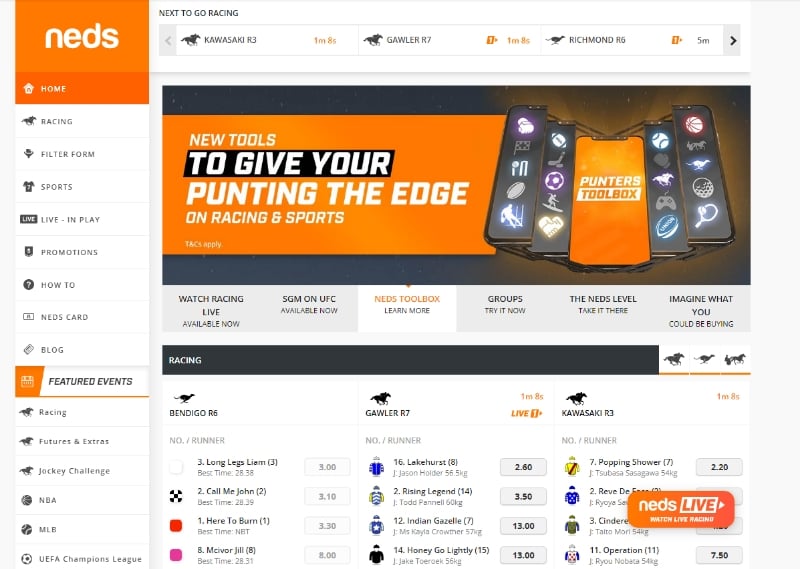 Step 2:
Click on the Register, Sign Up or Join button to start the registration process. Opening an account generally takes less than two minutes.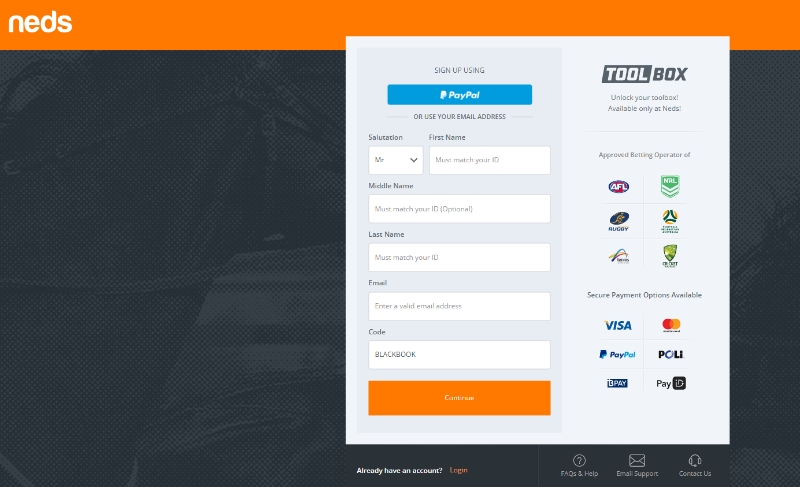 Step 3:
Make a Deposit. Once your account is activated, log in with your credentials such as a username or email address. Next, go to the cashier or banking section to make your first deposit.
Step 4: Start placing sports bets online. Go to the sportsbook, browse the selection of sports and find the event you want to bet on. From there, all you have to do is find the betting market and input your stake.
Payment Methods Accepted by Online Bookmakers in Australia
When it comes to online betting in Australia, having a wide range of secure and convenient payment methods is important to provide you with a seamless wagering experience. Reputable online bookmakers understand the importance of providing diverse options to accommodate the preferences of their customers.
Here are some commonly accepted payment methods by online bookmakers in Australia:
Credit/Debit Cards: Credit and debit cards are widely accepted by most online bookmakers in Australia. Popular card brands like Visa and Mastercard are commonly supported. Using a card for deposits allows for quick and easy transactions, with funds being instantly available in your betting account. However, it is worth noting that some banks may treat betting transactions as cash advances, which can result in additional fees or interest charges.
Bank Transfer: Bank transfers are another common payment method accepted by many online bookmakers. This method allows you to transfer funds directly from your bank account to your betting account. While bank transfers may take a bit longer to process compared to card payments, they are a secure and reliable option. It's essential to check with your bank for any potential fees associated with bank transfers.
EWallets: EWallets have gained significant popularity in the online betting industry due to their convenience and security. Platforms such as PayPal, Neteller and Skrill are widely accepted by many online betting sites around the world and you can find bookmakers in Australia who allow you to use this payment method.
EWallets act as a virtual wallet, allowing you to store funds and make deposits and withdrawals easily. They offer an extra layer of privacy as your financial information is not directly shared with the bookmaker.
Prepaid Cards: Prepaid cards such as Paysafecard are a suitable option for those who prefer not to use their bank accounts or credit cards for online betting transactions. These cards can be purchased from various retail outlets and come with a specific value loaded onto them. You can then use the prepaid card details to make deposits into your betting account.
It is important to note that if you use a prepaid card, this is usually only for deposits and not withdrawals, meaning you will need to have another payment method in order to withdraw your winnings.
Cryptocurrencies: With the rise of digital currencies, some online bookmakers in Australia now accept crypto as a payment method. Bitcoin, Ethereum, and other cryptocurrencies offer a decentralized and secure way to quickly transfer funds. Using cryptocurrencies for online betting transactions provides an additional layer of anonymity and can offer faster processing times. However, it's important to consider the potential volatility of cryptocurrencies when using them for betting purposes.
It's important to note that while these payment methods are commonly accepted by online bookmakers in Australia, the availability may vary from one platform to another. Before signing up with a bookmaker, it's advisable to check their website or contact their customer support to ensure that your preferred payment method is supported.
Free Bets in Australia
Betting sites in Australia are not legally allowed to offer free bets to players. In 2019, the Australian federal government banned betting sites from providing free bets to their customers.
Although Australian betting sites are limited in their offers, they make up the limitation in other areas, with many sportsbooks in Australia offering excellent odds and
betting promotions
.
Australian Betting Apps
Mobile betting in Australia
has taken off in recent years. Online sportsbooks in the country have invested in creating user-friendly and convenient apps for bettors.
Betting sites with a quick and reliable app are among the best on offer for Australian bettors. Often, good mobile betting apps allow for quicker bets and easier account management options.
Some betting apps also run live streaming services. These allow customers to sign up and watch selected sporting events from their mobile device.
Horse Racing Betting Sites in Australia
Betting on horse racing is simply huge in Australia. It accounts for the largest portion of online betting sites' turnover and is the real focal point of the majority of online sportsbooks.
From the Melbourne Cup and Caulfield Cup during the Spring Carnival to the Golden Slipper and Doncaster Mile during the Autumn, the opportunity to punt of thoroughbred racing has never been bigger.
All leading Australian betting sites offer odds from across daily horse racing meetings, futures odds on feature race months in advance and live streams too...with the service unrivalled in many other countries.
You can also bet on international racing from around the world as well as on virtual racing, with horse racing betting now a 24/7 operation.
NRL Betting Sites in Australia
Betting on rugby league and the NRL is big in Australia. From the regular NRL season to the Grand Final and onto the State of Origin series between New South Wales and Queensland, Australians are made for this variety of footy.
Such is the popularity of the rugby league action, Australian sportsbooks offer value odds and promotions on the feature matches each week and throughout the NRL season.
AFL Betting Sites in Australia
AFL betting odds and markets are available with all Australia betting sites. After all, this footy is one of the most popular throughout the year.
From offers and promotions throughout the home and away season to standout offers on the AFL Grand Final, you can get exception value on your AFL bets when choosing the right betting site.
Brownlow Medal betting, Coleman Medal odds and Rising Star Award markets are also popular ways to bet on Australian Rules.
Australian Betting Site FAQs
How do I choose a betting site in Australia?

Consider the number of sports markets on offer and the quality of the betting odds when choosing an Australian sportsbook. Also, look for a good standard of customer service, live streaming options and whether the company has a betting app.

What are the new betting sites in Australia?
There a number of new betting sites launched in Australia, TopSport, WinnersBet, Rob Waterhouse are among them. Several traditional on course bookmakers are now setting up online operations to take advantage of the boom in online wagering.
What is the best Australian betting app?

There are many good betting app options available in Australia. The best apps will have quick access to all markets and easy access to accounts and payment options. For further details, check out our dedicated Australian betting reviews.
Can I get free bets in Australia?
No. Free bets in Australia are banned by the Federal Government. However, Australian betting sites offer better odds and promotions in place of welcome offers and bonuses.
What are the most popular sports in Australia?
Horse racing is the biggest sport when it comes to betting online. The top Australian betting sites all offer markets across thoroughbred, harness and greyhound racing. AFL, NRL, cricket, rugby, tennis and soccer are also extremely popular among punters.
What payment methods do Australian betting sites accept?
You can expect to find all the standard payment methods available via Australian betting sites. Deposit using your VISA or Mastercard, including a dedicated card offered by a number of online wagering companies. Some betting sites also offer the chance to deposit via Skrill, Neteller, Paysafecard, PayPal, Apple Pay, POLi, BPay and Flexepin. You can also deposit money via some banks and outlets.