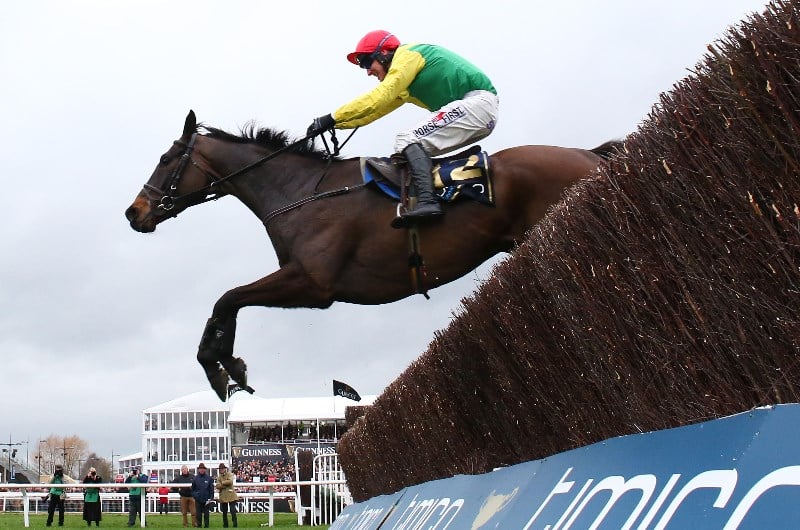 How to bet on the Cheltenham Gold Cup

Horse racing is one of the biggest sports in gambling and there are few races as anticipated as The Cheltenham Gold Cup.
The race, which has the biggest prize winnings in all of British horse racing is watched by millions of people each year and is seen as a bit of a special one for punters and bookies alike.
The race is the biggest and most anticipated race at the annual Cheltenham Festival, which is something of a week-long celebration of all things horse racing.
Betting on the Cheltenham Gold Cup for the first time can be quite a frightening step to take, however, so we here at Bonus Bets have complied this useful how to guide to walk you through the basics of betting on the Cheltenham Gold Cup.
When is the Cheltenham Gold Cup?
The Cheltenham Gold Cup is one of the most prestigious horse races in Britain. The race takes place on the final day of the annual Cheltenham Festival and features one of the biggest prizes in racing.

The event typically takes place in March and often coincides with the Irish patron saint holiday of St Patrick's Day.
In English horse racing, the Cheltenham Gold Cup is second only to The Grand National in terms of popularity.
The event is considered to be one of the most prestigious races to win in horse-racing and the race is seen as somewhat of a show-piece of the best of the best.
Types of bets
Single/Win only
The most straight forward type of bet, especially for beginners. This involves simply picking the horse you believe will win and placing that bet.

Place only
A place only bet is a bet on your horse to place, which means you will be betting on your horse to finish in the top 2, 3 or 4 of a race to win your money.
Each Way
One of the most common bets placed in horse racing and on The Gold Cup in particular, is an each-way bet.
An each way bet is basically when you put two different bets on the same horse- one of them for the horse to win the race, and one of them for the horse to place.
In a race like The Gold Cup, where the odds are often very narrow at the top, an each way bet can act as an insurance policy for the punter, guaranteeing them some returns even if their horse fails to win the race.
Just remember that whatever stake you place on an each way bet will be doubled when it comes to paying up.
Straight Forecast
A straight forecast bet, also known as an exacta or a perfecta is a bet where you choose will horses will finish first and second, in the correct order.

These type of bets can often have a very generous pay-out, but they are also extremely difficult to get right.
If you are struggling to find decent odds on your predicted winner though, and you're feeling fairly confident, then this type of bet could be beneficial.
Tricast
A tricast is the same as a straight forecast, only this time, you have to choose which horses will finish first, second, and third, and get them in the correct order.
Odds on this are usually very high, especially at The Gold Cup, but they are also very difficult to get right. As they say though, fortune favours the brave and this is certainly one of the braver bets you can place on the Gold Cup.
Special bets
Both bookies and punter alike love The Gold Cup, which means that there is no shortage of special offers and bonus bets when it comes to the race.

Not only will most bookmakers have very generous sign-up bonuses for all of the new customers who come flooding in during the race, but they also offer enhanced odds in the days leading up to the event and will often offer money back as free bets specials.
Like The Grand National, it is common for bookies to offer a lot of 'insurance' style bets at The Gold Cup. Including 'no runner no bet, faller offers, and cash back as a free bet if your chosen winner places.
All of the sign-up offers and bonuses also provide an excellent opportunity for punters to sample a new bookmaker and take advantage of all of the bonuses being made available.
Where to bet
The Cheltenham Gold Cup is second only to The Grand National when it comes to gambling numbers in the UK, which means that you really shouldn't have any troubles finding a bookmaker giving out odds on the race.

As such, it simply comes down to a case of deciding which one you think offers you the better value on the day.
William Hill
,
Bet 365
and
Bet Victor
all often offer excellent promotional offers and sign-up bonuses during the event, with Bet365 often offering the best odds on the event.
If you are unsure as to which bookmakers to use, or how to claim any of the previously mentioned
sign-up offers or special bets
, then you check out our
bookmakers reviews
and our useful how-to guides, both of which you will find using the drop-down menus at top of the page.
Cheltenham Gold Cup betting strategy
Making money off the Cheltenham Gold Cup can be a difficult task but there are several things you can do that may go someway into helping you line your pockets.
Needless to say, research is a massive factor when it comes to this race. Unlike The Grand National, it is very rare that an outsider wins The Gold Cup, therefore, simply picking a name out because you like it probably won't get you very far.
Runners' previous form at Cheltenham should definitely be taking into consideration when watching the event, as should the ground they are on, with soft ground offering favouring certain horses and making for a much better race.