How to bet on boxing
Your guide to betting on boxing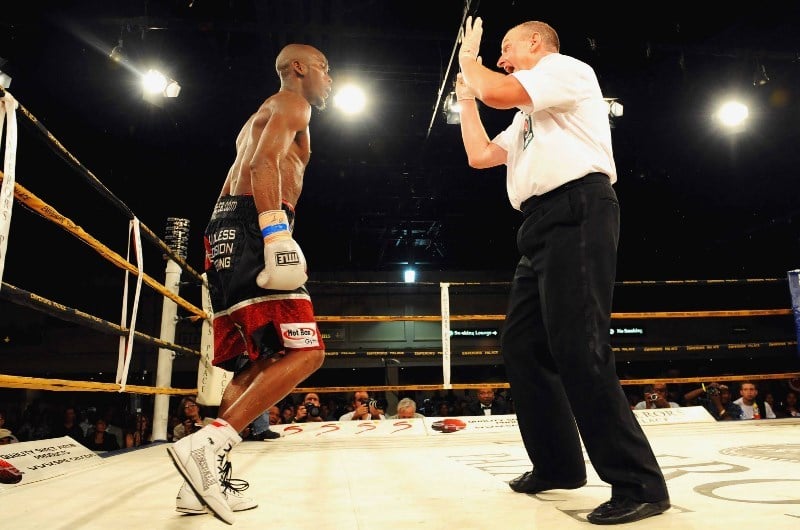 How to bet on boxing

Boxing and gambling have a long and illustrious history with one another, and in today's age of online betting, the sport has quickly established itself as one of the most popular on the market for customers.
Bookmakers are continuously expanding their markets when it comes to boxing, with most major sites now offering odds on everything from amateur fights to blockbuster heavyweight clashes.
The following guide will cover the ins and outs of betting on boxing, meaning that you won't have to wait until the next big blockbuster fight to make a bit of extra cash off the sport.
Boxing schedule
Those who are used to betting on team sports like football of the NFL may struggle at first to get their head around how boxing fights are scheduled.
Unlike team sports, there is no organised season in boxing, nor are there monthly PPVs like you may find in sports like MMA and professional wrestling.
Instead, boxing events are organised by promoters and are often announced months in advance.
Because of this, some bookmakers may even present odds for fights that are not yet confirmed.
Type of bets
Due to the simple one on one nature of boxing, bookmakers will offer various different markets to their customers to keep things interesting.
The following are the most common types of bets you will bookmakers offering on boxing:
Outright winner
The outright winner market offers three simple options- either of the two boxers wins or the fight end in a draw. This is the simplest market to bet on and can often prove lucrative for those with extensive knowledge of the sport.

Given the nature of the sport, there is often a clear favourite for each fight and there is money to be made providing you are willing to back those favourites heavily.
Of course, you can never rule out the fabled 'puncher's chance' in boxing, meaning that occasionally backing an underdog could prove to be advantageous.
Over/Under
Over/Under bets are becoming increasingly popular in sports like football, but they have also become a staple of boxing betting in recent years.




A boxing match can go a total of 12 rounds, with many fights normally coming to a close in the latter stages of that total. As a result, bookmakers tend to offer over/under at around the 8.5 mark, with odds normally favouring over.




This is where knowledge of boxing can come in extremely useful. A powerful boxer may pick up a victory in the early rounds of his fight, meaning that a well-placed bet on under 8.5 could put a few pennies in your pocket.



Decision
Unlike a lot of sports, boxing can end in a variety of different ways, and bookmakers normally offer a market on how a specific fight will be decided.

There are traditionally five ways a boxing match can be brought to an end:

Knockout (KO)
When one boxer knocks the other to the ground and he fails to respond to the referee's ten-count.



Techincal Knockout (TKO)
A technical knockout is when either the referee stops the fight in favour of one boxer, a boxer cannot continue the fight, or one boxer's corner throw in the towel and forefit the fight.
Disqualification
One of the fighters is disqualified from the fight by the referee for breaking a rule.
Decision
The fight lasts the full 12 rounds and is decided based on the scorecards of the three judges at ringside.
Technical decision
The fight is stopped, often due to an injury, and the result is decided based on the judge's scorecards up to that point.
Round Betting
Slightly different to the over/under bets mentioned earlier, round betting is when you select a fighter to win and also choose the round in which they will win. This can also be further enhanced by adding the decision to the bet as well. For example- you could wager on Deontay Wilder to win in the 4th round by TKO, instead of simply betting on the Wilder to win the fight or the fight to end in round 4.

These bets can often prove quite lucrative for those who have a strong knowledge of the sport and its fighters and are among the most popular types of bets placed.
Special bets for boxing
Boxing's big money marquee fights attract a huge amount of attention and as such, the bookies will offer a wide variety of unique markets on those fights.

Bets such as- how many punches will be landed by boxer A, or will a boxer get knocked down and get back up again will often be available and there may also be some novelty bets available as well. For example, bets like which celebrities will accompany a performer to the ring can often be found for the bigger fights.
While some of these bets can prove to be big money makers, they are often there just to add a little bit of fun to proceedings and make the fight more interesting.
Where to bet
In recent years boxing has experienced somewhat of a renaissance, and as a result of that, it has quickly become one of the most popular sports to place a bet on.

All of the major online betting companies will offer a wide range of markets on the sport, while almost all of the major bookmaker companies will offer odds on the big fights, so it will just come down to whichever one you prefer or which one is offering the best odds.
Several bookmakers will also offer in-fight bets, which can often help add a little bit more excitement mid-match.
If you are unsure on which bookmakers you want to use, take a look at our 'bookmakers review' section at the top of the page.

Strategies for boxing betting
Research is essential when it comes to betting on boxing.
While it is easy to get caught up in the pre-match hype and press conferences, there are a number of different elements that come into play when choosing who is going to win a fight.
Elements such as body type, fighting style, and previous record can all have a huge influence on a boxer's chances and can change the outcome of a fight.