What is a reverse forecast bet?
New to reverse forecast betting?
Get our betting guide!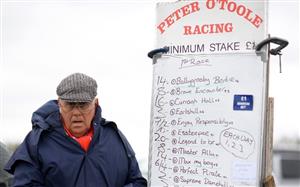 CHELMSFORD, ENGLAND - MARCH 15: A bookmaker looks on during Point-to-Point Racing at High Easter on March 15, 2020 in Chelmsford, England. (Photo by Alex Davidson/Getty Images)
What is a reverse forecast bet?
A reverse forecast bet is a combination forecast bet where you choose which selections will finish first and second in a selected race. Unlike a straight forecast bet though, the order in which the selections finish is not a part of the bet.

Reverse forecast bets are becoming increasingly popular in the gambling world, largely because they often offer very high payouts for a low risk. They also offer a little more insurance than a straight forecast bet, despite being a little bit more costly.
As with any type of bet though, reverse forecast bets come with their own unique set of pros and cons, and that's why we here at Bonus Bets have compiled the following guide to help you get up to speed with this type of betting.
Calculating odds and an example
A reverse forecast bet is a fairly straight forward type of bet to get your head around. The bet effectively consists of two separate straight forecast bets, covering the possibility of both selections finishing first and second.

To place the bet, the first thing you need to do is to head on over to your preferred bookmakers and find the sport you are looking for.
Because reverse forecast bets are only really used in racing based sports, you will probably be placing your bet on horse or dog racing, though, motor sports is becoming increasingly popular as well.
Once you have done this, you will want to go to your selected race and choose your two selections.
When they have been added to your bet slips, most bookmakers will provide you with the option of making the bet into a reverse forecast there and then. If they don't, however, you will likely find the option under the other markets tab ,or potentially a tab specifically for forecast betting.
Punters should also be aware that the stake they enter into the box will be automatically doubled- this is because you are effectively placing two separate straight forecast bets.
Now that that is out of the way, let's take a look at exactly what a reverse forecast bet looks like, using horse racing as an example.
The bet consists of two separate bets:
1) Horse A to finish first in the race, and Horse B to finish second
2) Horse B to finish first in the race, and Horse A to finish second.
This covers both possible outcomes and you will only lose the bet if one or both of the horses fails to finish in the top two.

One thing you should be aware of here is that the bookies are not likely to offer you odds when you place the bet.
While some bookmakers might do this, a lot will calculate your returns during the race and you will not find out how much you have won until after the race is run. You can probably work out if it is going to be a good amount or not though based on the odds that were offered on the individual horses winning the race.
Another thing you should be careful of is bookmakers terms and conditions when it comes to non-runners. Most bookmakers will just place the single stake on the remaining horse to win if one of your horses fails to run, while others may offer to return the stake to you, depending on how soon it is before the start of the race.
If you have any concerns or questions over which bookmakers are the best to use, you can check out our detailed bookmakers reviews using the links at the top of the page.
Advantages of placing a reverse forecast bet
A lot of experienced gamblers would argue that placing a reverse forecast bet is a much shrewder move than placing a straight forecast bet.

Picking which horse is going to win a race can be a difficult enough task in itself, so picking which selections will finish in first and second, and in the correct order, can feel pretty much impossible. By placing a reverse forecast instead of a straight forecast, you at least narrow down those odds a little bit.
A reverse forecast can also be incredibly effective if there are two selections that are both very tight favourites and you can't decide between the two. Though, if the favourites are too clear, then it may not be worth playing this type of bet.
Reverse forecasts can also be used strategically alongside win and place bets in races to help cover your selections a little further and boost your potential returns.
Like all forecast style bets, a reverse forecast can also have a very generous pay-out for a very low stake.
Disadvantages of placing a reverse forecast bet
As with all forecast style bets, the biggest disadvantage of a reverse forecast bet is that it can be incredibly difficult to win anything.

Bets that are this difficult to get right will probably end up costing you more money in the long run, and you will likely end up with more losses than profits over a long period of time.
The fact that the bookies will rarely offer you fixed odds on these kinds of bets can also be incredibly frustrating for some people.
What sports can I place a reverse forecast on?
Due to the nature of a reverse forecast bet, most bookmakers will only offer this type of bet on racing based sports.

Horse and dog racing are by far the most popular types of sport to place these bets on, though, motor racing has seen an increase in popularity in recent years.
If you are looking to place a reverse forecast bet on something like football league positions however, most bookies will probably allow you to place the bet if you contact them directly.
For detailed guides on how to bet on individual sports, feel free to check out our useful how-to guides using the links at the top of the page.