What is a single bet?
New to online betting?
Read our guide to placing a single bet!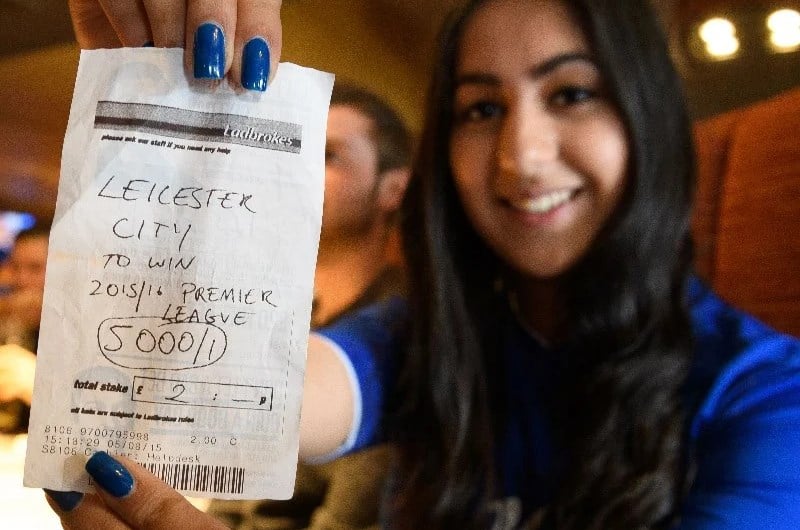 What is a single bet?
Getting your head around gambling and all of the different types of bets can prove to be an incredibly difficult task but in the age of accumulators and goliath bets, the humble single bet still remains the most popular, and the simplest type of bet that a punter can place.
The single bet is straightforward and simple for anyone to use. It is when you simply bet on the outcome of an event, whether that be in sports, politics, entertainment, or any other markets that bookmakers have to offer.
1
bet365: Sign up using the bonus code NEWBONUS. Bet $1 and Get $200 in Bonus Bets at bet365. Deposit required. Bonus Bets winnings are added to Bonus Bets balance. Bonus Bet wager excluded from returns. The bonus code NEWBONUS can be used during registration, but does not change the offer amount in any way. New customers only. 21+ T&Cs, time limits and exclusions apply.
How to calculate odds and an example
Both calculating odds and placing a single bet are very straight forward and do not take much getting used to.

The first thing you will need to do is to go to your selected bookmakers (you can check out our in-depth bookmakers reviews at the top of the page) and click on the sport or event that you want to place a bet on.
Once you have found the sport or event you want to click on, choose the outcome you desire to bet on and click on it. This will then be moved to your betting slip, where you can choose how much money you want to wager and then place your bet.
The first thing you should look for when you are placing a single bet is what odds are being offered and whether they are good value or not.
The odds will usually be presented in the traditional fractions format, and while they may seem quite complex for newcomers, they are actually very easy to work out. What you need to remember, is that the second number is how much money you wager and the first number is what the returns will be, you can them multiply or divide this accordingly depending on how much you want to wager.
For example, a bet that offers odds of 7/2, will see £7 returned for every £2 wagered. If you were to only wager £1, your returns would only be £3.50, while if you were to wager £20, your returns would be £70, and so on and so forth.
So, if you were to place a £5 bet on Team A defeating Team B at odds of 3/1, and they did, you would walk away with £20, which would be the £15 winnings and your returned stake. If Team B were to win the match, or if it was to end in a tie/draw, then you would lose the bet and your money.
Advantages of placing a single bet
Single bets are not only the simplest type of bet to place, but they are also the least complicated.

Unlike other types of bets, you are purely dependent on one thing happening for you to win your money.
In terms of being time and cost effective, singles bet are often seen as a more conservative and sensible approach to gambling than placing big multiple bets or accumulators. Placing an accumulator bet, for example, can be frustrating if one of your six selections lets you down, whereas if you had placed six individual bets and five of them win and one of them lose, you are still going to be in profit.
Long term singles bets can often prove to be quite lucrative as well, with more patient gamblers betting on the outcomes of things like the Super Bowl or The Premier League at the start of the season when the odds are at their most generous.
It can also prove to be quite lucrative if you have a good eye for spotting an outsider. Taking a risk and putting a low stake on someone with high odds can prove to be quite fruitful if done correctly.
In the long term, playing singles bet is often the most profitable way of approaching gambling and can see your profits boost much quicker than other approaches. It is the style that tends to be used by most long-term successful gamblers and is often seen as much safer than backing big multiple bets and accumulators.
Disadvantages of placing a single bet
Due to the simple nature of a single bet, it can often be incredibly difficult to find great odds, especially when it comes to betting on a sport that has just two or three possible outcomes.

There is often a clear favourite when it comes to most events, and backing an outsider is always an incredibly risky venture.
As a result of this, backing single bets often means that, if you want to make some money, you have to wager some serious cash, and as a result, you do run the risk of losing some big money.
One approach that is seen as a sensible way to deal with single bets is that you just do flat bets, which is when you place the exact same amount of money on each bet you place. This can be an effective way of ensuring that your losses are never too high, which can happen if you take a high risk, low reward approach to gambling, but it can also mean that you may never really see any big returns either.
What types of sports can you place a singles bet on?
With placing a single bet being the most common type of bet to be placed, it will come as no surprise that you can literally place a singles bet on any sport.

Singles betting is not just limited to sports either- politics and entertainment are both also popular markets for gamblers.
The most common markets most people will place a single bet on are horse racing and football.
In short, if you are new to betting, then singles betting is by far the best approach you can take to start things off, especially if you want to see a quick return on your bets and don't want to risk making too much of a dent in your bank account. It can also prove to be an effective way of helping you understand odds and how bookmakers work.