$130 Bonus
use promo code NEWBONUS
Tested
Last used 52 minutes ago
Register with Promo code NEWBONUS. 18+. T&Cs apply.
1
Reveal bonus code
Click on the box to see our bonus code
2
Open the site
Register and use the promotion code
3
Sign up
Benefit from exclusive bonus when you sign up
What is the Linebet Promo Code? NEWBONUS
Linebet Promo Code Key Information

How to Use the Promo Code

How to get the Welcome Bonus

How to Place a Bet

Payment Methods

Sports Betting

Bonuses & Promotions

Customer Service

Linebet Promo Code FAQs
Linebet.com
provides a solid online betting experience to hundreds of thousands of punters all around the world.
This sportsbook offers a wide range of betting markets and payment methods, as well as a lucrative welcome bonus for new customers. Use the Linebet promo code NEWBONUS when registering to get a $/€130 deposit bonus - 30% more than the standard offer seen on their website!
Linebet Promo Code Key Information
Below you'll find out all you need to know about the Linebet promo code and how to get the biggest available welcome bonus when joining...

Linebet Bonus Features and Benefits
| Feature | Benefit |
| --- | --- |
| Linebet Promo Code | NEWBONUS (Players in India should use DESIBETS) |
| Deposit Bonus | 100% (30% extra when using this code) |
| Key T&Cs | Bonus must be wagered 5x before winnings can be withdrawn. |
| Sports Bonus | Up to 130€/$ (30% more) |
| Casino Bonus | Up to 1500€ + 150 Free Spins |
| Min Deposit | 1€ or currency equivalent |
Note: 18+. All promotional codes are for new customers. T&Cs apply. Checked daily (last checked 5 December 2022.)
How to Use the Promo Code
Go to Linebet.com via this link.
Open an account by clicking the 'Registration' button at the top of the page. Select your country of origin and your preferred currency.
Insert your bonus code. On the registration form you'll see a box asking you to 'enter promo code'. Enter the NEWBONUS code in this box in order to claim your welcome bonus of up to €130, then click 'register'.
How to get the Welcome Bonus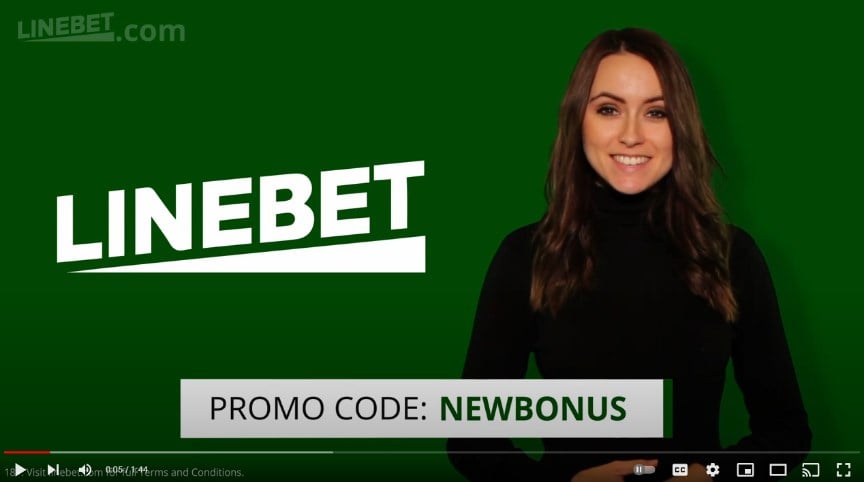 If you used our code when opening your account, you will be able to get an exclusive $/€130 deposit bonus - 30% more than their standard offer. Simply:
Log in to your new account then go to the banking section.
Click on to the 'Deposit' area and choose a payment method (see below for more on accepted payment methods).
Make a deposit of at least 1 EUR (or equivalent in another currency).
Your welcome bonus will be credited to your account automatically after the first deposit is made, up to a maximum 130€/$, which is 30% more than the standard welcome offer.
Who Can Claim This Bonus?
When you're ready to start betting, it's important to understand who qualifies for a bonus at Linebet. Take a look at the possible restrictions below for more information.
Only new customers at Linebet may claim the welcome offer once.
All new players must be 18 years or older to create an account and place a bet.
No customers who are directly involved with running sports or sports management may bet at LineBet.
Avoid These Bonus Mistakes
When claiming a bonus at Linebet, certain rules must be followed. Take a look at these possible mistakes and learn more about how to avoid them.
Make sure that you only deposit enough to claim the maximum bonus amount. The minimum deposit is €1.
Ensure that you can meet the playthrough requirement within the timeframe provided.
Keep your eye on any restrictions for qualifying bets such as types of bets, odds, maximum stakes per wager and qualifying events.
All bets must be settled before requesting a withdrawal.
The bonus must be claimed and used within 30 days of registration.
When attempting to withdraw from your account, KYC documents will be required. Keep these documents at hand to make the process smoother and quicker.
How to Place a Bet
Now that you've settled in and you're ready to start betting, follow these simple steps to get started.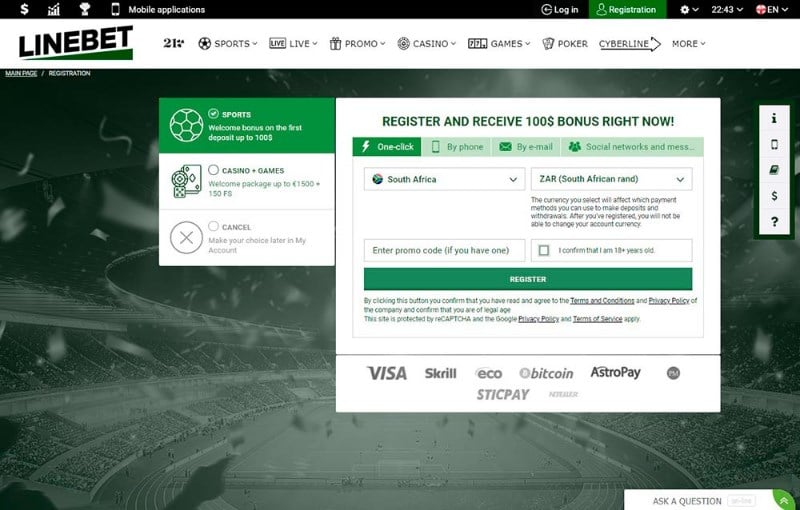 Step 1:
Open an account and log in once the registration process has been completed. This should only take a few minutes at most.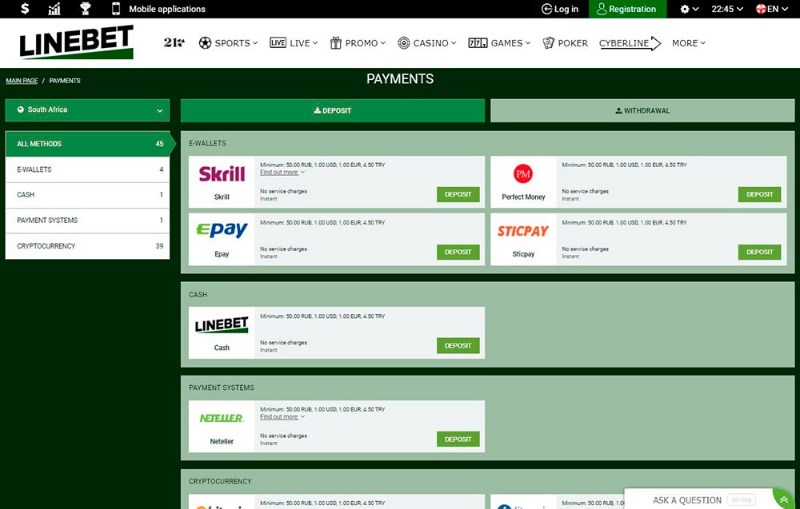 Step 2:
Choose from the many available deposit methods and be sure to use the promo code once you're ready. Decide how much you'd like to deposit into your account and complete the process.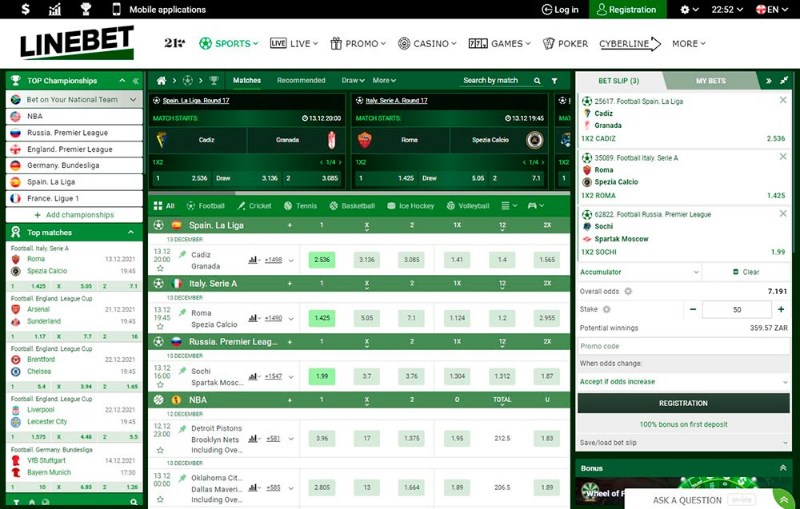 Step 3:
Start placing bets on your favourite sports and events. Take advantage of the fantastic range of betting options provided by Linebet.
Welcome Bonus Terms & Conditions

Like most welcome offers for new customers, the Linebet bonus comes with a few terms and conditions. The key ones are:
A customer is entitled to only one bonus.
The minimum required deposit to activate the bonus is 1 EUR.
Before making a deposit into their account, customers must agree to receive a sports betting bonus either on the 'Account Settings' page in the My Account section, or directly on the 'Deposit' page. This bonus is automatically credited to customers' accounts once the first deposit has been made, provided that the account details have been completed in full and a phone number has been activated.
Wager 5 times the bonus amount in accumulator bets. Each accumulator bet must contain 3 or more events. At least 3 of the events included in an accumulator must have odds of 1.40 or higher. The start dates of all of these events should not be later than the validity period of this offer.
Wagering Requirements
Once you've claimed your bonus and you're ready to make a withdrawal from your account, make sure that you understand the requirements.
The full bonus amount must be wagered at least 5 times in accumulator bets.
Each accumulator bet you place must contain at least 3 events.
At least 3 of the events included must have odds of 1.40 or higher.
Only when all of the bets have been settled are the wagering requirements considered settled.
Make sure that you've completely settled all outstanding bets before attempting to make a withdrawal from your account.
Payment Methods
Linebet accepts a range of various payment methods to fund your account with, including credit cards, debit cards, eWallets and mobile payment options such as Dinarek and Siru Mobile. A number of cryptocurrencies are also permitted for deposits.
Popular deposit methods include:
Mastercard
Bitcoin
Jeton Wallet
Mobpay Wallet
Perfect Money
Sticpay
QIWI
Webmoney
Siru Mobile
Currencies
You can deposit funds in over 100 different currencies at this betting site, including Euro, US Dollar, Indian Rupee, Swiss Franc and Japanese Yen.
For a full list of currencies accepted at the sportsbook, click on 'show more' to expand this list:
EUR (Euro), USD (US dollar), AED (UAE dirham), ALL (Albanian lek), AMD (Armenian dram), AOA (Angolan kwanza), ARS (Argentine peso), AUD (Australian dollar), AZN (Azerbaijani manat), BAM (BiH convertible mark), BDT (Bangladeshi taka), BGN (Bulgarian lev), BHD (Bahraini dinar), BIF (Burundian franc), BOB (Bolivian boliviano), BRL (Brazilian real), BWP (Botswana pula), BYN (Belarusian rouble), CAD (Canadian dollar), CDF (Congolese franc), CHF (Swiss franc), CLP (Chilean peso), CNY (Chinese yuan), COP (Colombian peso), CVE (Cape Verdean escudo), CZK (Czech koruna), DJF (Djiboutian franc), DKK (Danish krone), DZD (Algerian dinar), EGP (Egyptian pound), ERN (Eritrean nakfa), ETB (Ethiopian birr), GEL (Georgian lari), GHS (Ghanaian cedi), GMD (Gambian dalasi), GNF (Guinean franc), HKD (Hong Kong dollar), HNL (Honduran lempira), HRK (Croatian kuna), HTG (Haitian gourde), IDR (Indonesian rupiah), INR (Indian rupee), IQD (Iraqi dinar), IRR (Iranian rial), ISK (Icelandic króna), JOD (Jordanian dinar), JPY (Japanese yen), KES (Kenyan shilling), KGS (Kyrgyzstani som), KMF (Comorian franc), KRW (South Korean won), KWD (Kuwaiti dinar), KZT (Kazakhstani tenge), LKR (Sri Lankan rupee), LRD (Liberian dollar), LSL (Lesotho loti), LYD (Libyan dinar), MAD (Moroccan dirham), MDL (Moldovan leu), MGA (Malagasy ariary), MKD (Macedonian denar), MMK (Burmese kyat), MNT (Mongolian tögrög), MRU (Mauritanian ouguiya), MUR (Mauritian rupee), MWK (Malawian kwacha), MXN (Mexican peso), MYR (Malaysian ringgit), MZN (Mozambique metical), NAD (Namibian dollar), NGN (Nigerian naira), NOK (Norwegian krone), NPR (Nepalese rupee), NZD (New Zealand dollar), OMR (Omani rial), PEN (Peruvian nuevo sol), PHP (Philippine peso), PKR (Pakistani rupee), PRB (Transnistrian ruble), PYG (Paraguayan guaraní), QAR (Qatari riyal), RON (Romanian leu), RSD (Serbian dinar), RUB (Russian rouble), RWF (Rwandan franc), SAR (Saudi riyal), SCR (Seychellois rupee), SDG (Sudanese pound), SEK (Swedish krona), SGD (Singapore dollar), SLL (Sierra Leonean leone), SOS (Somali shilling), SSP (South Sudanese pound), SZL (Swazi lilangeni), THB (Thai baht), TJS (Tajikistani somoni), TMTM (Turkmenistan manat), TND (Tunisian dinar), TRY (Turkish lira), TWD (Taiwan dollar), TZS (Tanzanian shilling), UAH (Ukrainian hryvnia), UGX (Ugandan shilling), UYU (Uruguayan peso), UZS (Uzbekistani som), VND (Vietnamese dong), XAF (Central African CFA franc), XOF (West African CFA franc), ZAR (South African rand)
Sports Betting
You can bet on over 40 sports at Linebet, with live betting available for some of the bigger sporting events.
Most sports have a good range of betting markets available, and in addition to sports betting, you'll find politics betting, eSports and financial betting available.
Top 10 Sports
Basketball
Boxing
Cricket
Darts
Football
Golf
Horse Racing
Mixed Martial Arts (UFC)
Snooker
Tennis
Bonuses & Promotions
Linebet offer regular promotions and bonus offers to their customers. The list of promotions is always changing, and we have picked out some of the most popular specials you'll find each week:
Daily eSports bonus - available every day
Accumulator of the Day which gives a bonus on ACCA winnings each day.
Bet Slip Battle which gives punters a bonus on bets at odds of 30/1 or greater
Free bets on your birthday
Casino Bonuses & Promotion
The casino section at Linebet is filled with great gambling options. Online slots, live casino games, bingo, and much more can all be enjoyed when you're looking for something other than sports betting action.
When you're ready to sign up for the first time, you can grab a welcome package up to €1500 plus 150 free spins on some of the best online slots. Simply make a first deposit of €10 to get started and agree to the bonus terms and conditions.
That's only the start! There are a number of other brilliant promotions and special offers waiting to be claimed.
Weekly Cashback
Your Birthday with Linebet
Stay connected to Linebet and don't miss out on a single new offer or promotion.
Mobile Betting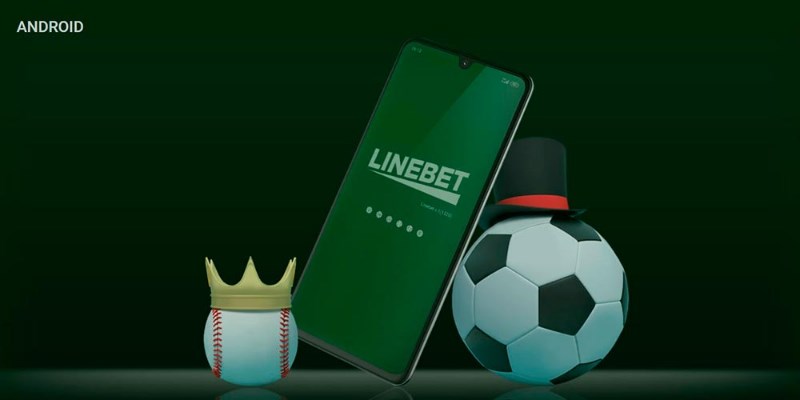 Betting on the go is one of the best ways to experience sports betting and live betting. Linebet lets you do just that with their mobile site and app, available across a number of devices to keep you in the action.
How to bet on your Android device:
Visit Linebet and make your way to the Mobile Applications page.
Click on the Android logo and download the APK file.
Once the file is downloaded, install it on your mobile device.
Log in to the Linebet Android app and start betting.
How to bet on your Apple device:
Unfortunately, there is no Apple app available just yet but you can browse the mobile site from your iOS device. All you have to do is visit the site from your mobile browser, log in and enjoy everything that the site has to offer.
Customer Service
You can get in touch with Linebet in a number of ways:
Live chat: 24/7 via the Linebet website/app
Email: support@linebet.com
Telephone: +44 20 3966 1747
Promo Code Summary
| Product | Promo Code | Bonuses for new members |
| --- | --- | --- |
| Linebet Sports | NEWBONUS | 100% deposit bonus up to €130 |
| Linebet India | DESIBETS | Up to 10,000 INR bonus |
| Linebet Casino | NEWBONUS | Welcome bonus up to €1500 + 150 Free Spins |
Note: All promotional codes are available for new users only. Use the code NEWBONUS when registering to get the maximum new user bonus.
Linebet Promo Code FAQs
What is the Linebet promo code?
The Linebet promo code is NEWBONUS. Receive a €/$130 deposit bonus when you use this code.

Is Linebet legal?
Yes. Linebet currently has a Curacao license but have proved themselves to be trustworthy and legal in jurisdictions around the world. Linebet currently operates legally in a number of countries around the world.
Who owns Linebet.com?
Based in Cyprus, Linebet is owned and operated by Brukalka Ltd.
What is the best Linebet bonus code to use?
You can get a 100% deposit bonus when you use Linebet promo code NEWBONUS. This code allows you to get an extra 30% bonus. You can get up to €130 in bonus funds.
How many customers do Linebet have?
Linebet have over 400,000 customers in countries around the world.
What is the best Linebet promo code?
Use Linebet code NEWBONUS to get a 130 EUR welcome bonus. Enter the promo code when completing the registration form and get this enhanced deposit bonus worth up to €130!
$130 Bonus

use promo code NEWBONUS

Register with Promo code NEWBONUS. 18+. T&Cs apply.

Tested

Last used 52 minutes ago
Last updated by on 05 Dec 2022