How to bet on basketball
Betting on the NBA for the first time?
Read our guide for help with betting on basketball!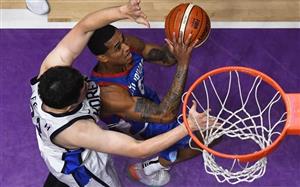 Basketball schedule

Types of bets

Results betting

Points totals

Outrights

Handicap bets

Special bets

Where to bet

Basketball betting strategy

More Betting Tips and Guides
How to bet on basketball

Basketball is one of the biggest sports in the USA and it is quickly gaining more and more attention from the rest of the world, with divisions popping up in all corners of the globe.
With the sport becoming more popular, it is only natural that gambling interest in the sport continues to grow and demand has never been higher than it is now.
Basketball leagues often tend to have a very hectic schedule and as such, there is some serious money to be made from having a cheeky flutter here and there.
For those not too well acquainted with the sport though, coming to grips with the league structures and the betting markets can be quite difficult. That's why we here at bonus bets have come up with the following handy little guide on how to get started betting on basketball.
Basketball schedule
The most popular league in the world of basketball is the NBA, the National Basketball Association, which takes place in America.
The structure of the NBA can take some getting your head around if you are from the opposite side of the pond. There are 30 teams split across two conferences, each split into three divisions each.
The season typically runs from October through to April, with the playoffs normally running from the end of April to the start of June.
College basketball is also a massive market in the USA and there are games running throughout the typical season as well. This is where the stars of tomorrow will be ploughing their trade and there are often some very decent odds to be found around there.
Outside of the USA, basketball is becoming increasingly popular with audiences around the world.
In Europe, countries like Spain and Italy have both developed strong domestic league, while in South America Argentina are making quiet inroads into the market.
There is also a female division in America which is growing in popularity- the WNBA.
The rise of all of these leagues and the sheer number of games taking place in each division means that there is pretty much no time during the calendar year where you can't bet on basketball.
Types of bets
The more popular a sport becomes, the more varied its betting market becomes. These are the most common types of bets placed on basketball:

Results betting
The simplest type of bet in any sport is the results bet. In this type of bet, the punter bets on what they believe the full-time result of the game will be. There are three options available here- the home team, the away team, or a draw.
Points totals
Another type of market that is incredibly popular in team sports is the points or goals total market.
In this market, you will bet on how many points will be scored in a game. These are often presented as either over/under markets or in margins. So you could often see it presented as over/under 190 points, or 190-220 points, for example.
These types of bets are becoming increasingly popular in all sports, and due to the high scoring nature of basketball can often be a very nice way to make some extra cash.
Outrights
Another popular type of bet is the outright bet, where you select who you believe is going to win a specific tournament or league.

These bets can often prove to be quite fruitful, however, if you place them pre-season, which is often when the best odds are available, then you may find yourself waiting quite a long time to see any sort of returns on them.
Handicap bets
A handicap bet is incredibly common across all types of sports betting and it effectively imagines a hypothetical scenario where one of the two teams, usually the team who is the favourite, starts the game on fewer points than their opponent.
For example, in a handicap match, Team A may start the game with -8 points, meaning that they would have to outscore the opposing team by at least 9 points to win the match.
This can be an effective way of evening the odds in a game where one team is a runaway favourite and wouldn't be worth betting in a singles bet.
Special bets
When it comes to basketball betting, the market you are most likely to find the best odds or special offers on is obviously the NBA.
Given the star power that the NBA attracts, most bookmakers will offer regular specials on certain players, whether that is how many points they will score in a certain match or their points total for the season. There are also a lot of 'who will score more points' markets for some of the division's top players.
Where to bet
Thanks to its ever-increasing popularity away from its homeland of the United States, most bookmakers will now have a fairly wide range of odds available on basketball.

Almost every bookmaker will offer odds on the NBA and the WNBA but not every bookie will cover all of the European, Asian or South American leagues.
Paddy Power
and
Bet Victor
tend to offer the best odds on these markets, though, this can definitely fluctuate depending on the league you are looking for.
Several bookmakers will also have special bets on, especially during the NBA playoffs.
While none of them will be streaming the NBA, some of the bookmakers may stream some of the international league live on their websites or apps, ensuring that you don't miss a minute of the action.
Basketball betting strategy
Like any team sport, basketball can be extremely unpredictable at times and there is no hidden secret as to how to bet on it.

The sheer number of games played during a basketball season, especially in the NBA, does lend itself well to those with an analytical mind, with literally hundreds of games for punters to go back over and study.
Analysing a team's form, their player's form, their previous records against other teams and their injuries/suspensions will never do you any harm either.
More Betting Tips and Guides