How to bet on football draws
New to betting on football?
Read our guide to betting on football draws!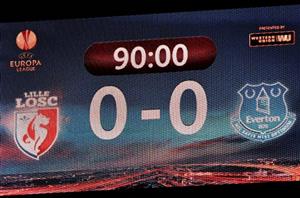 (Photo by PHILIPPE HUGUEN/AFP/Getty Images)
How to bet on football draws

Football is one of the most popular sports in the world to place a bet on and punters are constantly trying to find new and interesting ways to make money off the sport.
One of the more unconventional betting tactics when it comes to betting on the beautiful game is to focus on betting on draws, which is when the score at the end of the game ends level and neither team wins.
This can be an incredibly tricky skill to master though, so we here at bonus bets have compiled this useful guide detailing the ins and outs of betting on football draws.
Football schedule
Football is the most popular sport on the planet and there is barely a day that goes by that there isn't some sort of game for fans to indulge in.
Football seasons run throughout the year on different continents, with the most popular, the European seasons, taking place between the months of August and May. Other divisions, such as the MLS, the USA's biggest league, take place between March and October.
Outside of the traditional leagues, there are also several cup competitions and international tournaments that all take place at different times. Some of these will run alongside the domestic season, while some of them take place during pre-season.
The biggest international tournament, the FIFA World Cup, takes place once every four years during the Summer, while the biggest club competition, The Champions League, takes place during the normal campaign every year.
Traditionally, the majority of football games will take place on a Saturday afternoon at 15:00, though, there will always be top flights game taking place on Mondays, Tuesdays, Fridays and Mondays due to television deals.
That being said, there are games available to watch from somewhere in the world pretty much 24/7.
Types of bets
Full-time result
This is the market where you will find the odds on a draw in a match. The full-time result market is the most popular type of bet to place in football and offers the punter three simple options- home win, away win, or draw.
Due to the fact that few casual punters like to hedge their bets on a draw, the odds are normally fairly good and worth considering.
Accumulators
Accumulators or 'accas' as they are affectionately known, have quickly established themselves as the most popular type of bet in football, with thousands of punters around their world taking their chances on one every Saturday afternoon.
For those who are unsure what exactly defines an
accumulator bet
, it is when you put four or more selections on your bet slip and then require all of those results to come in for you to see any returns.
There are both pros and cons to accumulator bets. Naturally, the biggest pro is that the odds often tend to be huge and a victory ensures a big payday. Whereas the biggest con is that, if just one result lets you down, then you walk away with nothing.
Filling an accumulator up with draws is certainly risky business but if you can get it correct, then the returns could be massive. If you do decide to go down this route, it is advisable to keep the number of selections on your slip as low as possible to enhance your chance of victory.
Double chance bets
Double chance bets are when you effectively bet on two of the three possible outcomes in a game, with a draw and a victory for one of the teams being the most common type that people place a bet on.
These are worth placing when you feel as though one of the teams is definitely not going to win but you are not sure if the other team will be able to beat them either.
Obviously, because you are effectively betting on two possible outcomes, the odds on these will be much lower and in some cases may not offer great value.
Special bets
When it comes to betting on draws, a lot of bookmakers will often offer them up as part of some sort of insurance or double chance offer.

One of the most common types of bets you will see when is a 'draw no bet'. While this may sound like a bet you would place on a draw, what it actually means is that you bet on either a home or an away victory, and if the game ends in a draw, then your money is returned.
It is very uncommon for bookmakers to offer any sort of enhanced odds on a draw in a game, but it may be worth looking out for boosts in-play.
Where to bet
Football is one of the most popular sports on the market and as such, most bookmakers will offer a wide variety of markets on the sports.

In terms of betting on draws,
bet365
and
Paddy Power
tend to have the best odds on match results, so this is where you are likely to find the best odds on a draw.
Some bookmakers, specifically bet 365, will also offer free streaming of some of the more obscure football games, which means you can keep up with your specific game live.
Football draws betting strategy
Of all the results in football, the one where there is the most money to be made is a draw.

Few punters like to back a draw. For starters, it means that they don't have a horse in the race, as it were, and as such, they may find backing a draw to be boring. It is also incredibly difficult to call a draw, with very few games not having an advantage for either of the teams involved.
It is also worth spending your team researching not just the individual records of teams, but also their form when they have come up against one another, with certain teams often being prone to drawing with one another or certain tactical approaches cancelling the other out.
Another tactic some people like to use when it comes to betting on a draw is to wait until the game is in-play. This can not only boost the odds, especially if one team is one or two goals up, but it can also add a little bit of excitement to proceedings.
A rather surprising amount of top-flight games end in a draw these days so it is always an option that is worth considering when considering what types of bets you want to place.